Donald Trump continues to lead in the Republican 2016 race – and two-thirds of Republican supporters think he could win the general election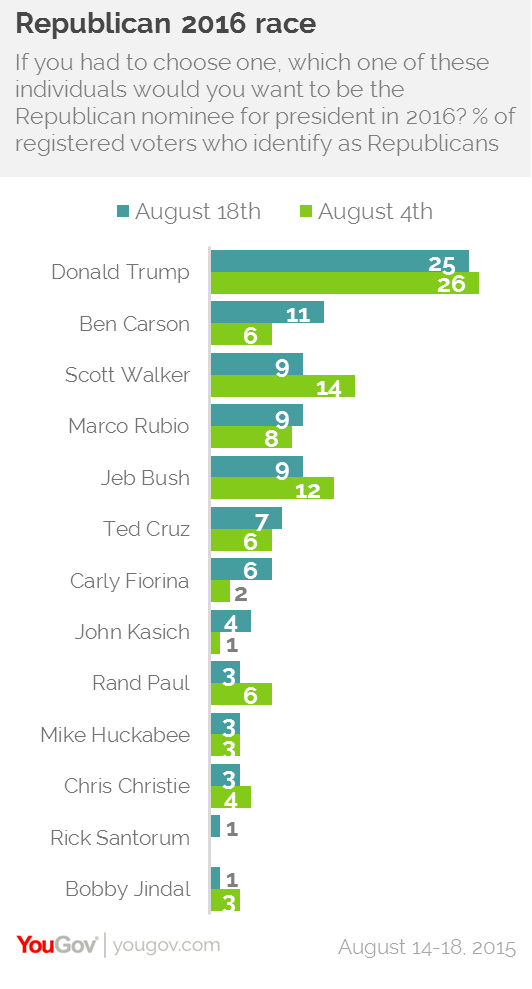 Donald Trump continues to lead all Republican candidates in the latest Economist/YouGov Poll – despite criticism of statements he made during the party's leadership debate earlier this month. His closest competitor (far behind Trump) is another candidate without a political background – former neurosurgeon Ben Carson, narrowly ahead of two Floridians, former Governor Jeb Bush and current Senator Marco Rubio.
Trump is just about as likely to be named as Republicans' second choice as each of the other top four. His ride at the top of opinion polls more than four months before the first official presidential nominating event has lasted much longer than many pundits predicted.
Trump's supporters for the most part are significantly less wealthy than he is – being chosen by around one in three registered Republican voters whose family incomes are below $80,000 a year. In fact, among Republicans with incomes above $80,000, Trump fares less well: he is in a tight race in that group with Bush, Wisconsin Governor Scott Walker and Texas Senator Ted Cruz.
Trump has overcome an earlier perception that he won't win. In this week's poll, one in four Republicans describe Trump as the party's likely nominee. Slightly fewer, 22%, say Bush will win the nomination. In most previous polls, Bush was viewed as the likely winner.
It's worth noting, however, that even more people believe Democrat Hillary Clinton could win the general election than say that about Trump – or Bush.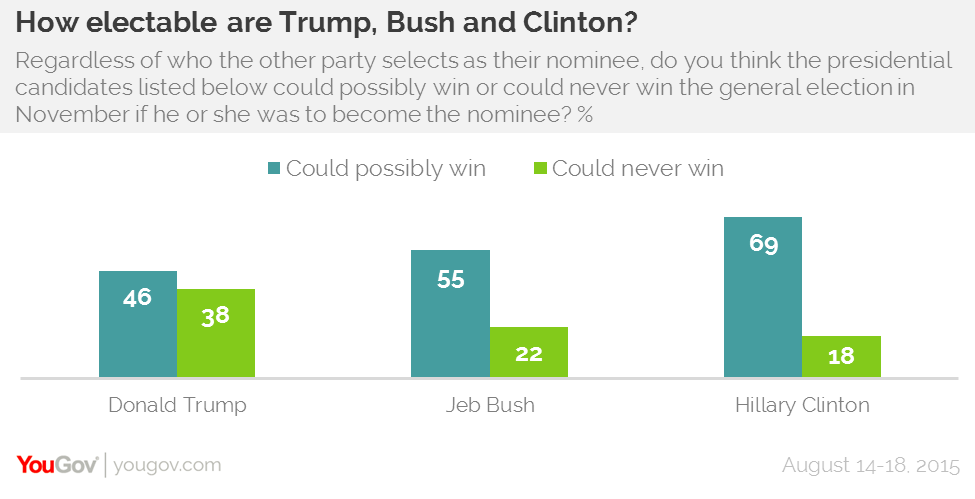 As for Republicans, two in three say Trump can win next November. Nearly as many say that about Bush and Rubio. Majorities of Republicans also see Carson, Cruz and Walker as possible general election winners.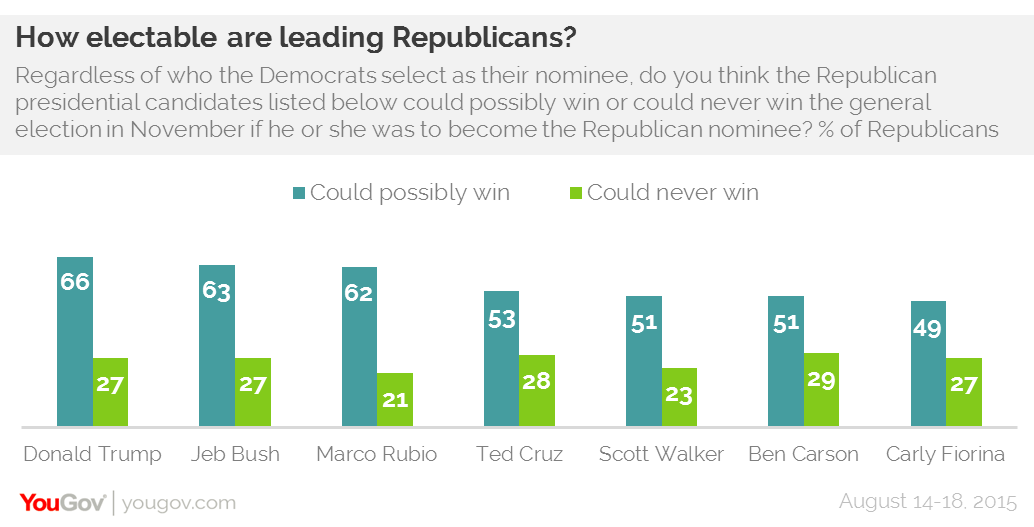 Trump has bounced back from the slight drop in favourability he experienced after the Republican debate. Now nearly two in three Republicans have a favourable opinion of him, although one in three continue to view him unfavourably.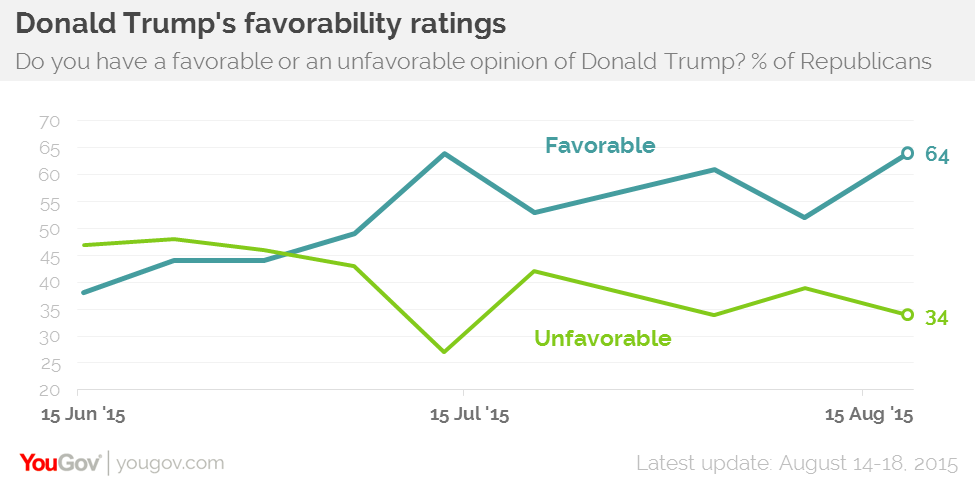 But there are several other Republicans who fare better than Trump when it comes to favourability. More than six in ten Republicans have a favourable view of Rubio, Carson and Cruz; the difference between them and Trump is that far fewer hold unfavorable opinions of these three candidates than are negative towards Trump.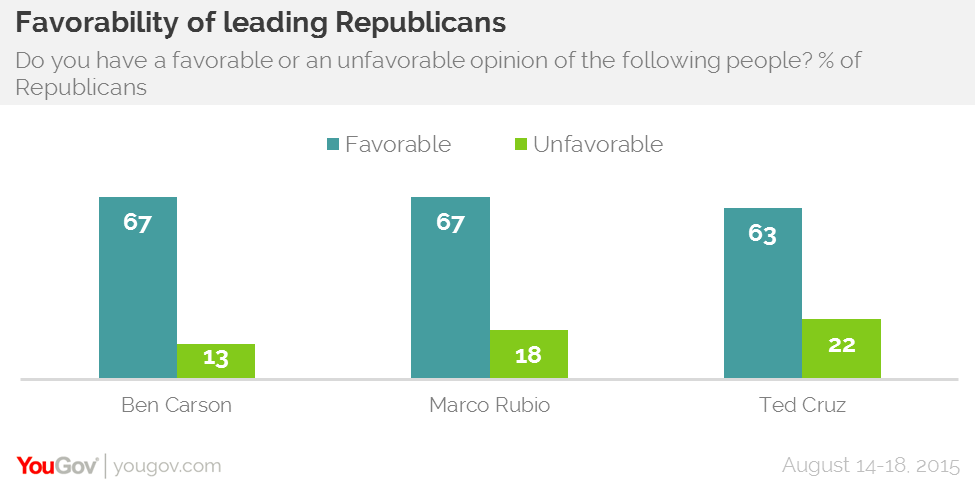 One reason for Trump's dominance may be the importance Republicans give to the issue of immigration. Two-thirds of Republicans say it is very important to them (less than half of Democrats and independents think that), and 13% say it is their most important issue. Trump supporters are nearly twice as liekly to say immigration matters most to them – slightly more than say that about the overall public's number one issue, the economy. 23% of Trump supporters say immigration is their most important issue; 21% of them cite the economy.
See the full Economist/YouGov results.
Economist/YouGov poll archives can be found here.