At -51 approval of the German government's record to date is at it's lowest level since September 2012
Angela Merkel's doors-open approach to the European migrant crisis may have received praise from abroad, but there are now signs of deep divisions among German conservatives – in particular, a rift has opened between the ruling CDU and the Christian Social Union (CSU), its allied sister party in Bavaria. The CSU Bavarian finance minister Markus Söder has called the political situation a "coalition crisis", "the most difficult situation since 1976". Amid political tension there is also social unrest, as attacks on accommodation for asylum seekers increase significantly and the far-right Pegida movement continues to attract support. Anti-immigration protests are on the rise.
On a monthly basis YouGov tracks opinion across seven northern European countries on government approval, the European Union and the state of the economy. In our data for October, Germany's government approval rating is at its lowest since September 2012, which makes this the lowest rating of the current parliament, elected in 2013.
At -51 Germany's government approval ranks among the lowest for the countries tracked, virtually tied with Sweden (-52), whose government is on the brink of collapse, and above only France, whose rating is persistently low.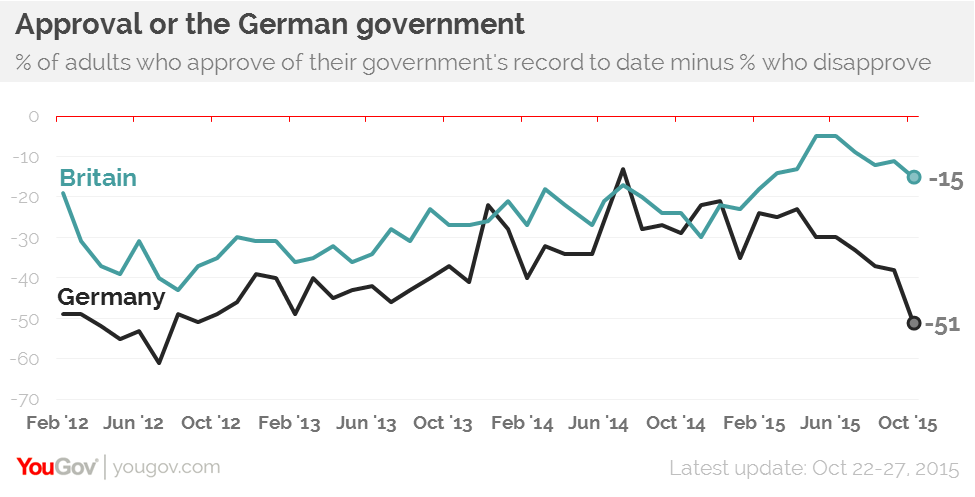 Britain has the highest government approval in this round of research, at -15, ahead of Norway (-19). Britain has only outperformed the six other nations on this measure on five occasions, all in 2015. British government approval has fallen slightly since its peak following the May election (-5), however this is normal as a government takes on responsibilities following an election.
YouGov also asks about membership of the European Union in this data series. The question wording varies slightly from our primary Britain-only polling, which uses the recently amended wording that will be put to the British public in the upcoming referendum, but is of course irrelevant to the other countries polled. In the Europe-wide wording for October, Stay and Leave are exactly tied on 40% each. Sweden is the next closest country in terms of Euroscepticism, with Stay currently leading by 10 points.
PA image