Donald Trump remains at the top of the reduced six-man GOP field – but there has been some movement as candidates have dropped out.
One of the beneficiaries in the latest Economist/YouGov Poll is Ohio Governor John Kasich, who has doubled his support among likely Republican primary voters from where it was before the New Hampshire primary. Kasich now has more support than former Florida Governor Jeb Bush and neurosurgeon Ben Carson. Carson was at or near the top in support in some earlier polls.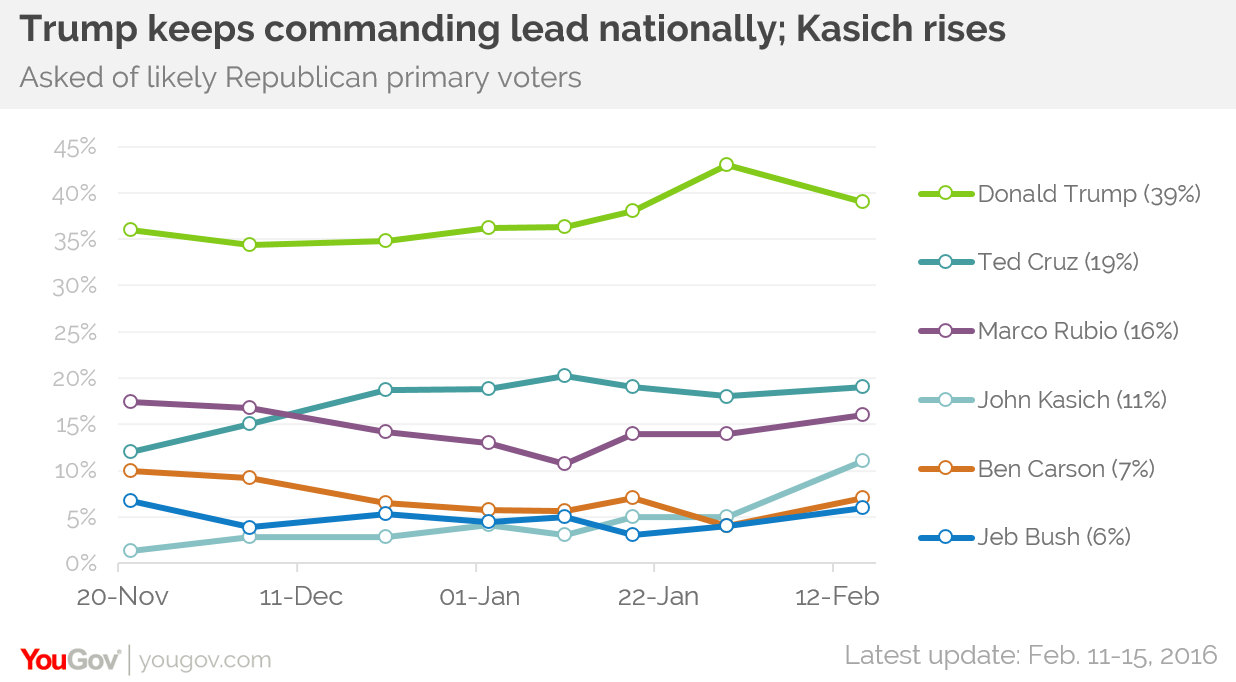 Kasich's second place showing in New Hampshire brought him some attention. And as the field has thinned out significantly, one in four GOP voters name Kasich as their first or second choice.
But Kasich has a long way to go. The top three candidates remain the same. Trump is selected by more Republican voters than either Texas Senator Ted Cruz or Florida Senator Marco Rubio. More than half (52%) name Trump as their first or second choice for the nomination (Cruz is named by 41% as first or second, Rubio by 35%).
Kasich does best in his native Midwest, and runs second to Trump among GOP moderates. However, non-conservatives make up only a minority of the party.
A majority of Republican voters expect Trump to emerge from the next set of states as the winner – and that he eventually will win the nomination. 56% of GOP voters expect he will win in South Carolina, 54% think he will win Nevada, and 53% expect him to win the nomination.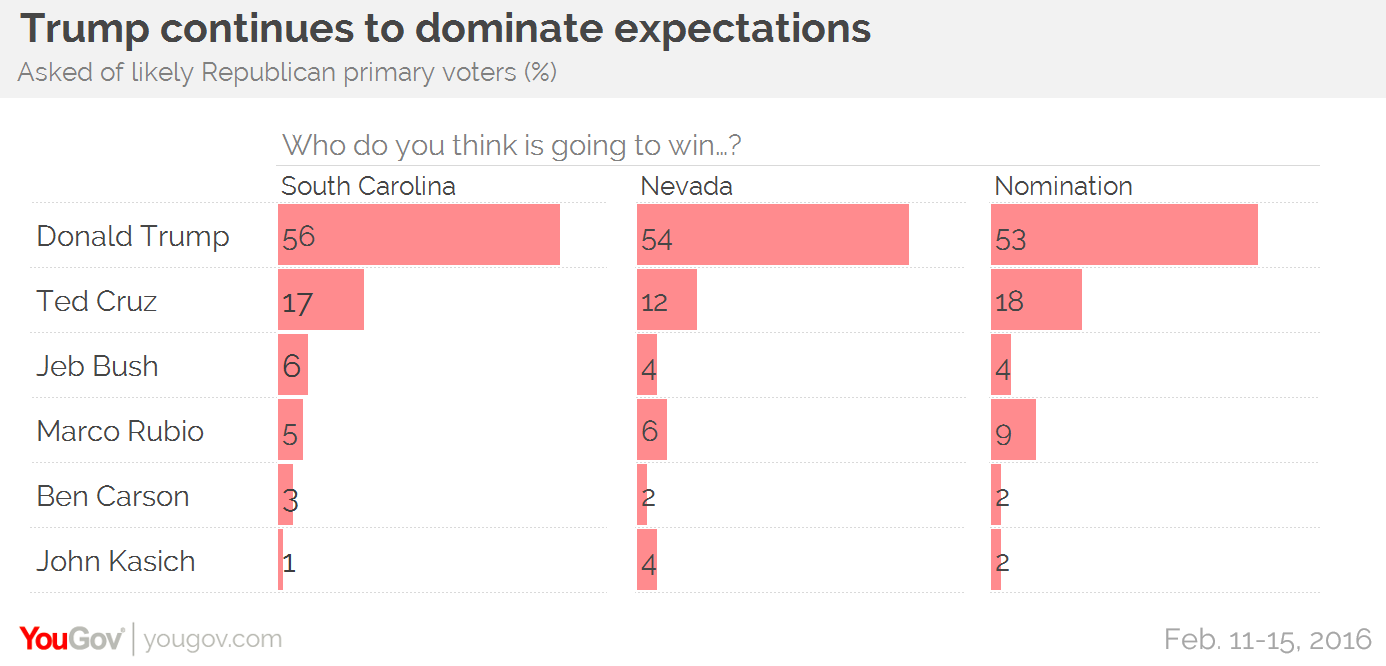 Only a third of Republican voters look on Bush or Carson as potential fall winners. Slightly more think Kasich can win. Two-thirds say Cruz and Rubio can. But Trump is definitely seen as the most electable: 78% of GOP voters think that Trump could beat the Democratic nominee. And when asked which candidate has the best chance of winning, 51% pick Trump,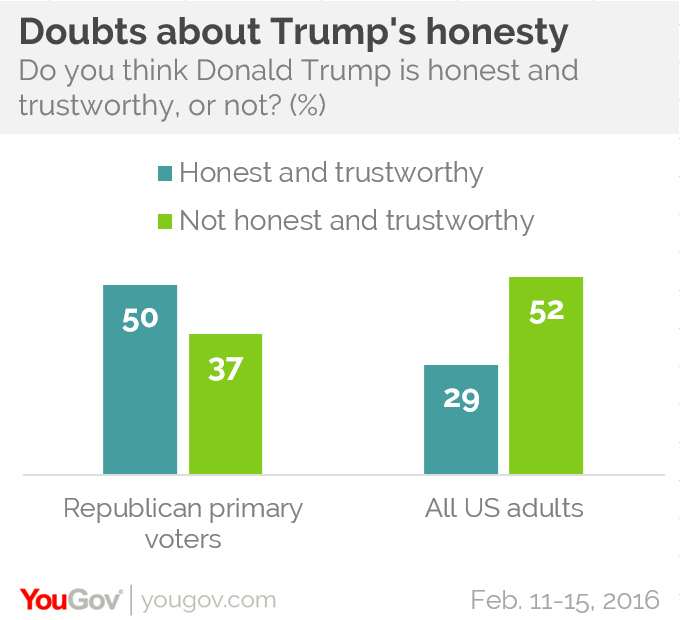 Trump, however, has some weaknesses. Nationally, a majority of the public think he is not honest and trustworthy. So do more than a third of Republican voters.
No other Republican fares as poorly on this question. And Trump's lead over Ted Cruz among those Republican voters who say that being honest and trustworthy is the most important characteristic for a candidate – one in three Republican voters – his lead over Ted Cruz is only eight points.
In addition, 37% of Republican voters have an overall unfavorable view of Trump, a higher percentage than for any of the other remaining Republicans except for Jeb Bush, about whom Republican voters divide evenly. Evaluations of Cruz by Republican voters look very much like evaluations of Trump: 35% of Republican voters have an unfavorable view of Cruz.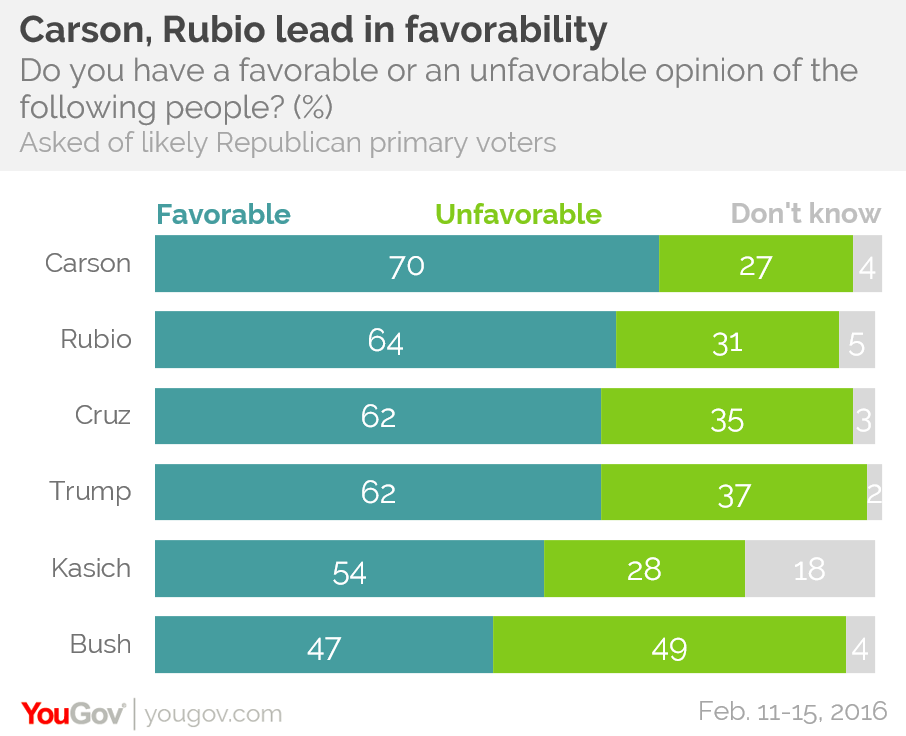 Trump is far ahead of the remaining Republicans when it comes to being trusted on two critical issues: handling the economy and handling immigration. 67% of Republicans primary voters trust Trump to deal with the economy, while just 54% trust Cruz, Trump's closest competitor. 61% say they trust Trump to handle immigration, eight point more than the percentage who trust Cruz on that issue. Cruz is the only other Republican candidate a majority of GOP primary voters trust on immigration.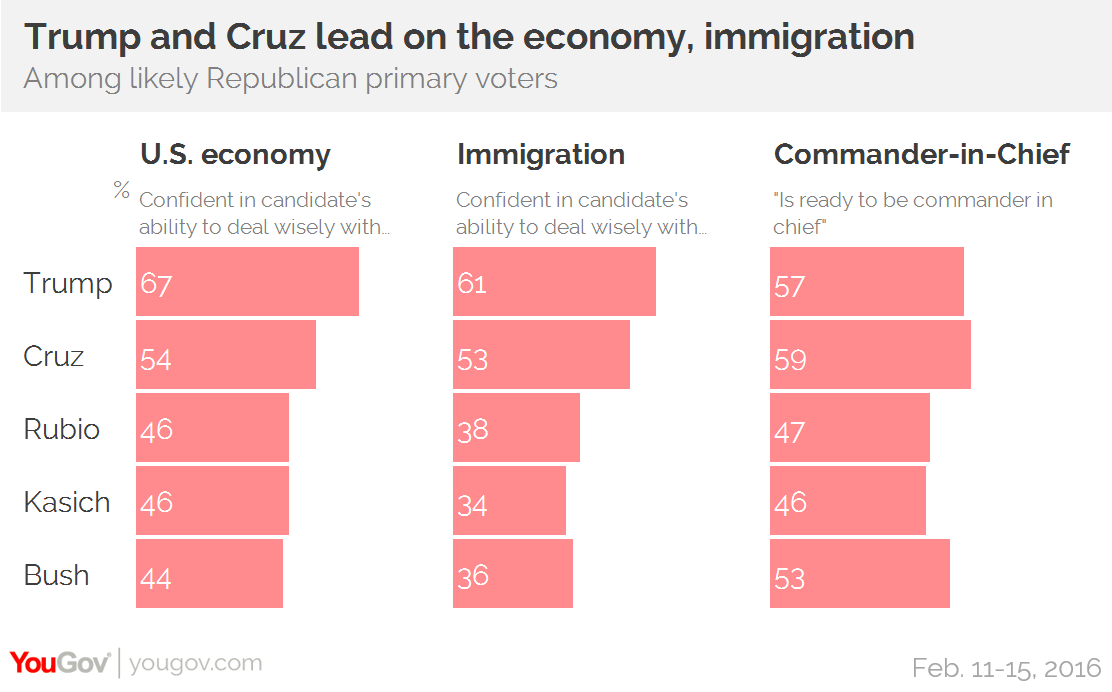 But there are three candidates a majority of Republican voters think are ready to be Commander-in-Chief right now: Trump (57%), Cruz (59%), and Jeb Bush (53%).
See the Economist/YouGov results
Economist/YouGov poll archives can be found here.
PA image