With less than a week to go, the race is more or less where it has been for months
Hillary Clinton and Donald Trump remain in a close race for the Presidency, with essentially the same levels of support as they have had for much of the fall. The advantage in the latest Economist/YouGov Poll remains with Clinton, who leads among likely voters (as well as among all registered voters) by three percentage points. This close contest has seen only incremental changes once the fall began, despite negative information that could have affected both campaigns. These two candidates seem to have fixed images and fixed levels of support among most of the voting public.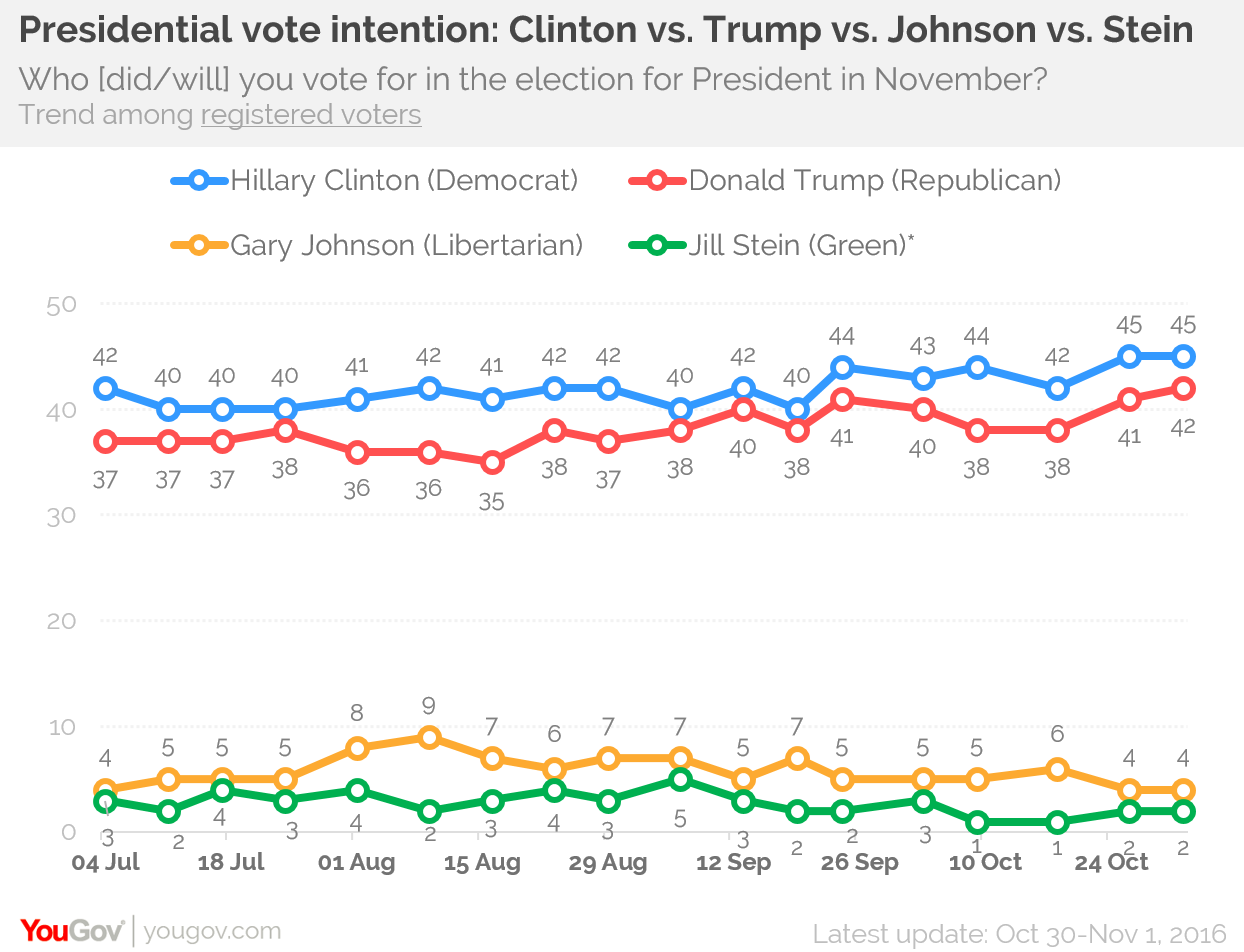 Among all registered voters, 45% now say they will vote for the Democrat, 42% for the Republican in the four-way contest. Looking only at likely voters, Clinton's share is 46%, Trump's 43%. The Libertarian and Green Party candidates receive 4% and 2% respectively. 4% expressed no preference. Clinton's biggest lead in the Economist/YouGov polls since the two party conventions has been only six points.
This poll was conducted after James Comey, Director of the Federal Bureau of Investigation, sent his letter to selected members of Congress, stating that emails from the private server Clinton used while Secretary of State had been found in a separate investigation. Nearly every likely voter (95%) had heard about the letter. Half viewed as a very serious problem. 61% say Clinton hasn't been completely honest about her role in this. Two in three (including 31% of Clinton's own supporters) believe Clinton did something wrong by using personal email for government business.
But those opinions are not new. And while there are some changes in overall assessments of the candidates, voting patterns have changed little. Clinton leads with those 45 years of age and younger, Trump has an advantage with older voters. Partisans have come home: nearly nine in ten Republicans and Democrats say they are voting for their respective party's nominee. Men give Trump a small lead of 46% to Clinton's 43%; women favor Clinton by eight points (while this is not the double digit lead Clinton has had with women in some previous polls, it is still a substantial edge). Only 6% of African-Americans and 20% of Hispanics support the GOP nominee.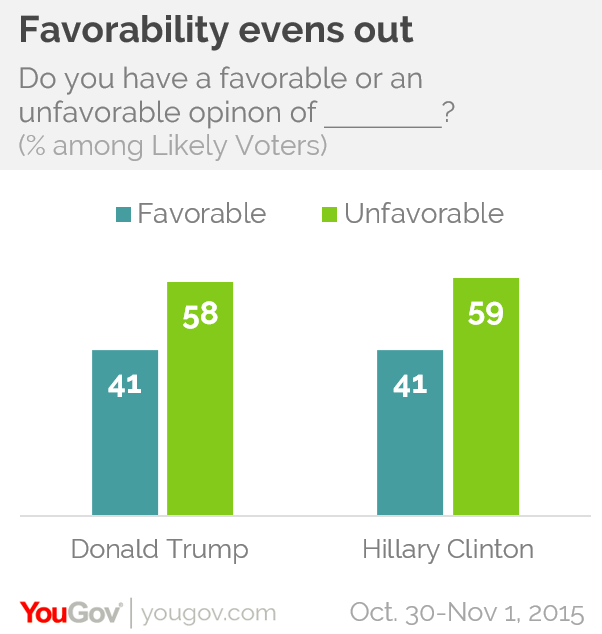 And there are some implications for Clinton in this post-Comey letter poll. Clinton and Trump are now equally likely to be viewed unfavorably by likely voters. Prior to this poll, Clinton received more positive assessments than Trump did, although her margin had been small, and overall a majority was unfavorable towards her. Now, nearly six in ten view each candidate unfavorably.
Underscoring the gender gap in voting preference is the fact that more than half of men say they have a very unfavorable opinion of Clinton, while more than half of women have a very unfavorable view of Trump. More than one in ten of each candidate's voters hold an unfavorable opinion of the person they are supporting.
And while neither candidate is seen as honest and trustworthy by most voters, in this week's poll Trump holds a ten-point lead over Clinton on that quality.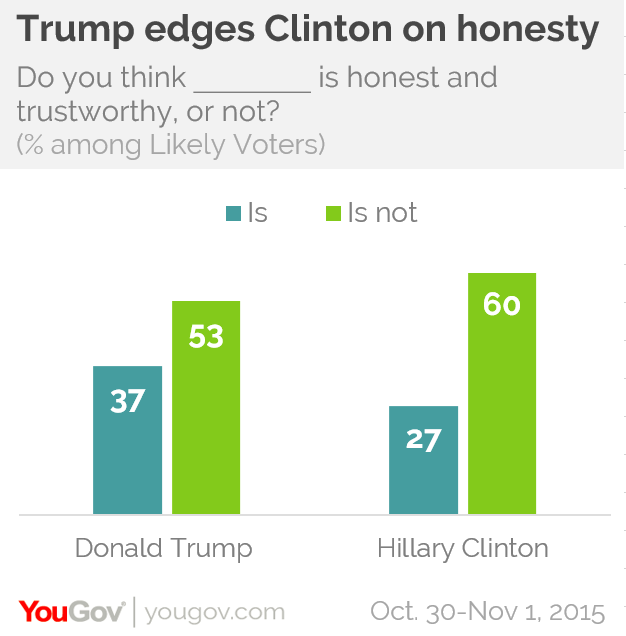 As for voter enthusiasm, Trump has an eight-point edge. In October, Clinton voters and Trump voters were equally enthusiastic about their candidate, but that is not true now.
However, enthusiasm and other measures of voter intensity may have limited impact on how people cast ballots next week. There appears to be little room for change in election preferences. In fact, one in four likely voters say they have already voted (that would include early voters and those who have mailed in an absentee ballot). That group favors the Democrat 50% to 43%.
Clinton is keeping her large advantage over Trump when voters evaluate each candidate's qualifications. 56% of likely voters say Clinton has the qualifications for the job of President, compared with just 39% who say that about Trump. 54% believe Clinton has the right temperament for the job, compared with 37% who think that about Trump.C linton even looks Presidential to 55% (although should she win, as a woman she certainly would look significantly different from every other American President). 45% think Trump looks presidential.
When it comes to working hard, toughness, and being successful, the two candidates score about the same.
Trump supporters expect more of their candidate than Clinton's voters do, especially when it comes to improving the economy. Just about nine in ten Trump voters believe the economy will improve if Trump wins; 66% of Clinton voters say that about what would happen to the economy in a potential Clinton presidency. In general, more would like to see each of the contenders compromise in order to get things done than simply stick to principles whatever the outcome (though Clinton voters want compromise more than Trump supporters do).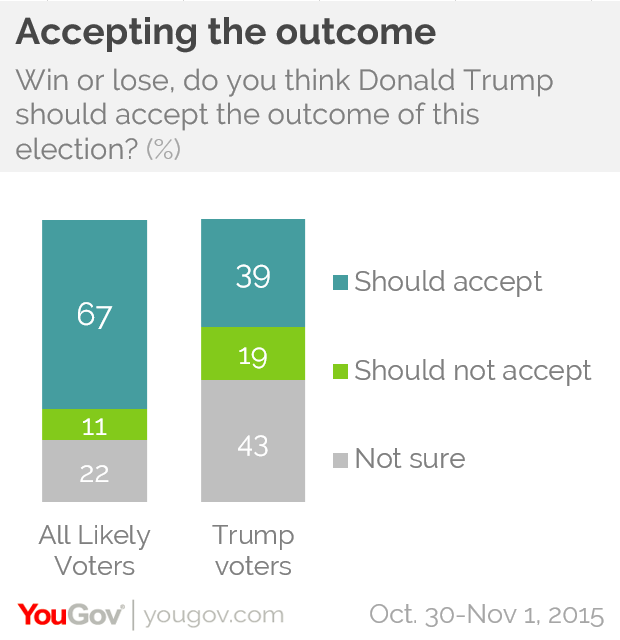 What Trump voters haven't yet decided is something Trump himself has been unclear about: whether or not he should accept the election results, win or lose. Like Trump himself, who famously said at the last debate "I'll keep you in suspense" when asked that question, a plurality of Trump supporters aren't sure what he should do. As of today, one in five say he should notautomatically accept the outcome.
---
See the rest of this week's YouGov/Economist Poll