The presidential campaign ends in a familiar place, with a modest lead for Hillary Clinton over Donald Trump
Democratic presidential nominee Hillary Clinton maintains her small but steady lead in the final Economist/YouGov Poll to be released before Tuesday's election, and she remains on track to be the first female U.S. President in history. This poll confirms much of what was seen throughout the fall campaign. Clinton leads GOP candidate Trump among likely voters 45% to 41%, with Libertarian Gary Johnson and Green Party nominee Jill Stein garnering 5% and 2%, respectively.

In the final three weeks, both before and after F.B.I. Director James Comey's letter to Congress noting the F.B.I. had found additional emails linked to the private server Clinton used when she was Secretary of State, Clinton maintained the small lead she had held through the fall. The Economist/YouGov Poll never showed the double-digit Clinton lead some other polls did, nor show any subsequent narrowing.
This week's poll was completed on Sunday; relatively few respondents would have heard of Comey's second letter stating the newly-discovered emails had been reviewed and showed nothing.
---
---
While both candidates are disliked by a majority of voters, Clinton has regained her very narrow edge in favorability; she continues to hold an enormous lead over Trump in voter judgments of temperament and qualifications for the job.
This is an election where gender and race matter – and make the difference. Women favor Clinton, men narrowly give Trump an edge. Those under 45 support Clinton, those 65 and older favor Trump. And without the overwhelming votes Clinton receives from minority voters, she would be trailing Trump.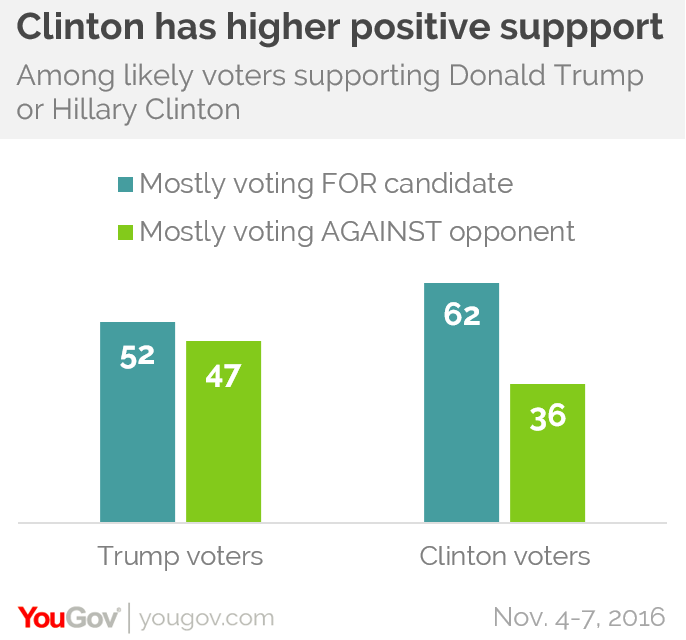 Partisans, for the most part, have come back to their respective party nominee. 90% of Democrats are supporting Clinton, 84% of Republicans favor Trump. What fuels Clinton voters is that they like her. Nearly two is three say they are voting for Clinton and not against Trump. Trump supporters are almost as likely to say they are supporting Trump as a way to show their opposition to Clinton.
But both groups are equally likely to care about the outcome. More than nine in ten admit they "care a lot" about what happens. There is a general expectation that Clinton will win: nearly twice as many voters say she will win as think Trump will. Each candidate's supporters have different levels of sureness that they are backing a winner: 83% of Clinton's voters think she will win compared with 59% of Trump voters who see him as the likely victor.
There is little hope that the election results will bring an end to party battles: majorities expect more or the same level of partisanship if either candidate is elected, though more worry about this if Clinton wins.
A Clinton victory will be a victory for organization: four in ten likely voters have already cast their ballots, and they have chosen Clinton by a seven point margin. "Definite" voters who have yet to cast their ballots divide evenly between the two candidates, while Clinton performs better than Trump among the small number who say they will "probably" vote.

---
Likely voters: Toplines and Tables
Registered voters: Toplines and Tables

YouGov/Economist Poll archives