YouGov's last Eurotrack survey of 2016 finds many Europeans feel that this year has been no better than 2015 and a lot think it was worse
As 2016 draws to a close and Europe prepares to face the significant geopolitical challenges the new year will bring, YouGov's Eurotrack study finds a pessimistic mood across Britain, France, Germany, Sweden, Denmark, Norway and Finland.
People are clearly concerned that their national governments are failing to chart a good course through an increasingly hostile world. Between 46% and 64% of people in the nations surveyed believe their country in particular is going in the wrong direction at a time when the majority (between 59% and 75%) think that the world in general is getting worse. The country with the highest proportion of people who believe that the world is getting better is Norway, at a paltry 12%.
This pessimism reflects the government approval ratings among the countries covered by the Eurotrack study: the highest net approval rating stands at just -17 (Norway), and sinks as far as -61 in France.
2016 in review and expectations for 2017
Asked how good 2016 was when compared to 2015, 40-41% of people in the Nordic countries and Germany believe it has been about the same, making this the most popular opinion in these countries. For people in Britain and France, however, 2016 has clearly been a much worse year. In Britain, almost half of people (48%) say that this year has been worse than 2015, rising to 58% of people in France.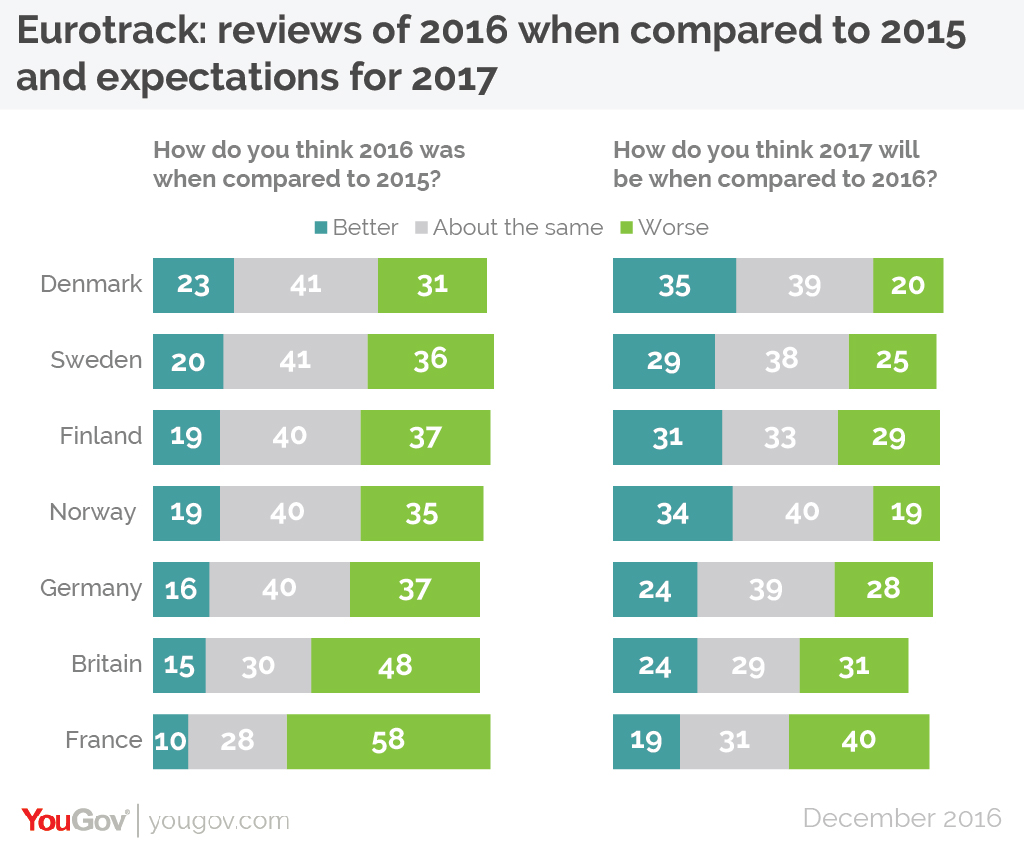 The Nordic countries are also the most positive about the year ahead. Between 29% and 35% of people across the four countries believe that 2017 will be better than 2016, a larger proportion than those who think next year will be worse.
By contrast, the people of Germany, Britain and France are all more likely to think that 2017 will be worse than 2016 than the other way around. Whilst Germany has significantly higher numbers of people who think that 2017 will be about the same as 2016 (39%), again in France and Britain the a plurality are pessimistoic about the next 12 months. Britain also has a much higher level of uncertainty about how good or bad 2017 will be (16%) compared to the other countries.
Household finances in 2016, expectations for 2017
More than half of French people (52%) say that their household finances have deteriorated over the last 12 months, and they are also not optimistic about the coming year. Just 13% think that their finances wil, improve in 2017, whilst a further 41% think they will get worse.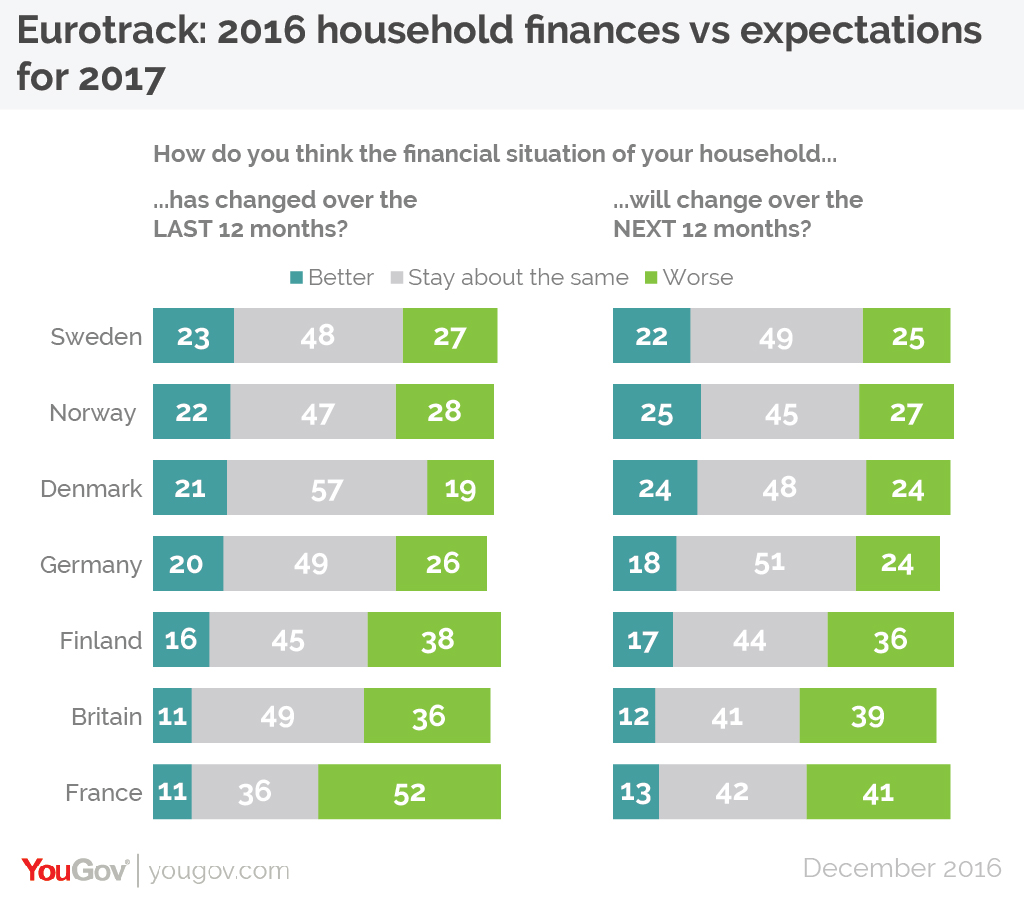 Elsewhere when it comes to their finances, people are more likely to say that 2016 has been about the same as 2015. Most expectations for next year are also broadly in line with the perceptions of how this year has been, although in Denmark and Britain people are less likely to think that their financial situation will remain the same.
National economies in 2016, expectations for 2017
People across the Eurotrack nations are far more negative about the state of their country's economy than they are about their own finances. In every nation surveyed, citizens are significantly more likely to say the national economy has got worse rather than better in the last 12 months, reaching a majority of those in Finland (50%) and France (58%).
The outlook for 2017 is gloomy, too. Again, in every country people are more likely to think the economy will deteriorate rather than improve next year. However, while in some countries - such as France and Finland - this means a decrease in pessimsm when compared to the 12 months just gone, in others - including Germany and Britain - it represents an increase in pesimism.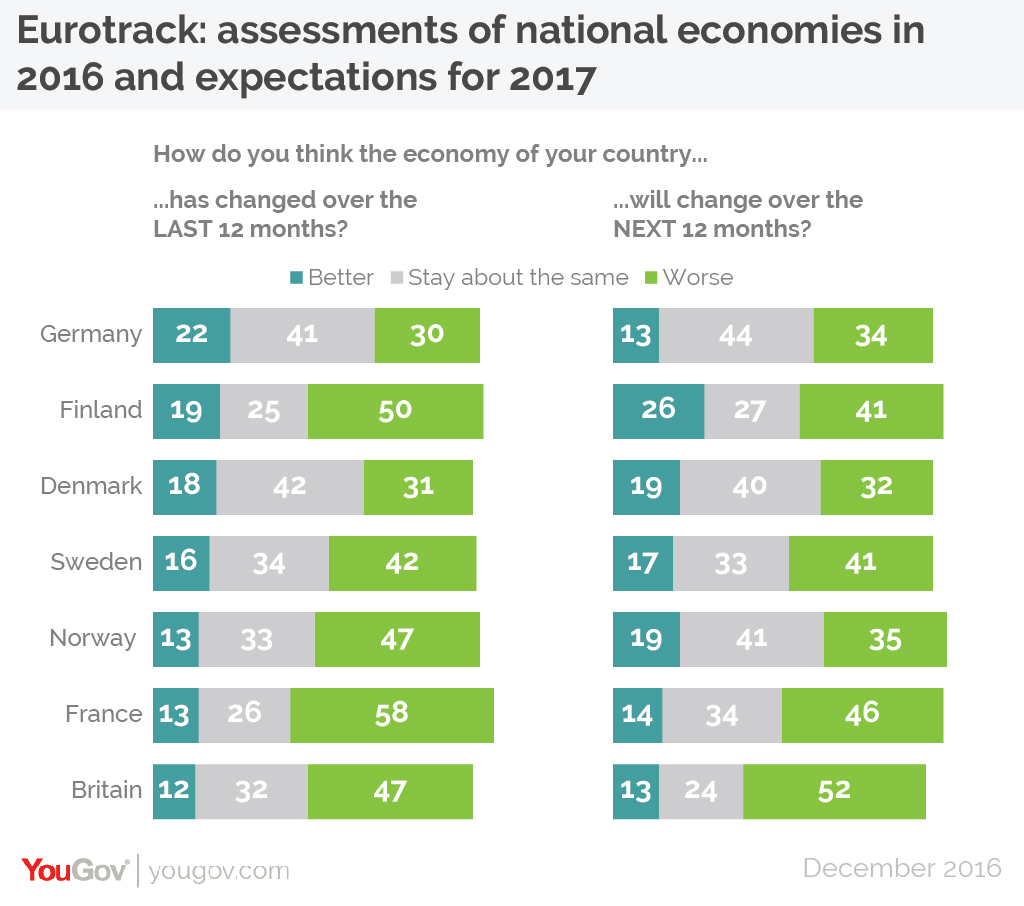 Photo: PA images